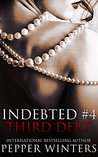 Third Debt
by
Pepper Winters
My rating:
5 of 5 stars
Writing: ★★★★
Story: ★★★★★
Characters: ★★★★★
Overall rating: 4.6
5 *Heart Stopping* Stars

"She healed me. She broke me. I set her free. But we are in this together. We will end this together. The rules of this ancient game can't be broken."
Third Debt starts off with Nila back home with her family, but she's missing Jethro and has decided that she can't live without him. She knows she can help him, she knows she can get him to choose her. But before she has the chance to run back to him, he comes for her, and much like the first time, not all is what it seems to the prying eyes of the public or her family.
However, the Jethro that comes to claim her to take her back to Hawksridge is only bringing her back with one goal in mind. The Third Debt. He is much like the Jethro she first met in Milan. Distant and cruel and as cold as the bottom of an iceberg in the Arctic.
Jethro has put the ice walls back up around his heart, thanks to a new and powerful drug that has proven quite well in helping his "condition". He feels nothing, he doesn't care about anything or anyone, doesn't even take his precious Wing out for riding or playing Polo anymore. He doesn't have time for all of that. He's fully ensconced in the business now, and has no need for anything, especially the "Weaver Whore". He wants the Debts done so he can move on to his 30th birthday and inherit it all.
Having Nila back, along with his new miracle drug, it should be easy to ignore her except only when necessary. But, this is Nila and Jethro, and it becomes a matter of who is really going to save who.
The sex between Jethro and Nila is beyond hot and only gets hotter! Ms. Winters knows how to build sex into a story without letting it take over and *become* the story. It's well placed and well timed. Not an easy thing to do in this genre.
There is a lot that goes on in this book, lots of dark and twisty turns. My heart started with a little crack throughout the last 3 books in this series to finally shatter to pieces by the end of this one.
Oh we can't forget about
Nila's "core"
, now can we?! As with my last couple of reviews with this series, I've shown how talented her "core" is.. this review will be no exception! Although her "core" wasn't as busy this time around, but it did do some neat tricks!
Lets see her core clenched while feeding off of his power, her skin hummed and prickled, her blood raced, her lips melted and... her core clenched each and every time. Her core clenched from his words, his power, it got wet from sheer deliciousness, and it clenched from the longing on Jethro's face. And when her core clenched, sparkes detonated in her blood! Damn!

Her core burned, prickling sensitivity darted and centered in her core, motorcycle regalia did terrible things to her core, and a blistering wave of need spread from her core.

Her core contracted again and again, with heaven shooting through her system. Heaven I tell you!

And finally her core exposed itself. Shameless, slutty little core!

Oh and lets not forget she also has talented nipples. They harden into rocks, they pebble, and peak.

They're dark, they get teased, tweaked, tugged, they freeze, and they throb with the swift burn of intoxicating pain.
It's going to be a looooong wait for August! Hopefully, we won't have to wait too long after that for the final installment. I'm looking forward to every core clenching, nipple hardening, dark, mind fucking page of it too!
**Don't take my bashing of Nila's core, or her nipples, to heart, (I hear she secretly likes it!), because I love this series and looking forward to more of Nila, Jethro, Kestrel, Jaz, Vaughn, both daddys and even Daniel the most screwed up little brother in history... oh and yes, even Nila's core!
View all my reviews