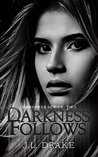 Darkness Follows
by
J.L. Drake
My rating:
5 of 5 stars
Writing: ★★★★★
Story: ★★★★★
Characters: ★★★★
Overall rating: 4.6
*****5 Creepy Jimmy Stars!*****
First of all I want to mention the cover of this book. It's the perfect rendition of what, in my mind, Emily looks like, and it really helped me to envision her throughout the book. Well done!
Darkness Follows picks up right where
Darkness Lurks
leaves off. Emily has been taken by Jimmy Lasko and he's got her gagged and ziptied to an old wooden chair. Emily is, naturally, frightened and is trying to calm herself when the door opens and a masked man walks in. But worse than that, there's a computer in the room, and it's broadcasting directly to Seth and the OPD. Seth and his co-workers can see and hear everything that is happening to Emily.
Seth is beside himself, and he blames himself for Emily getting kidnapped. If only he hadn't allowed himself to get to close. If only, if only, if only..
Days and days pass before Emily finally gets the chance to escape, and she takes full advantage of it. All she wants, all she thinks about, is getting back to Seth and his loving and protective arms.
*SCREEEEECH*

Not so fast, Emily. She gets back only to find that once again, Seth has pulled away. He's pulling the, "I need some space" card, and it makes me want to throttle him. He feels that if he hadn't let himself get too close, then he could have protected Emily better by not being distracted.
Emily during this time, kinda goes off the rails. She won't listen to common sense, she won't
*use*
common sense. Even goes so far as taking a mini-vacay at a spa.

Seriously, Emily? I found her to be very selfish and dangerous, and I worried that that combination was going to cause someone that she cares about to get hurt, or worse, killed.
Jimmy's creep factor is amped up in this book, just when you thought he couldn't get any more creepy, he does.

I can't go into too much about him in this review, there's just no way to do so and not spoil something for others. So i'll just leave it that you should definitely read with the lights on and the doors locked!
This book had me on the edge of my seat, biting my nails, and growling at Emily and Seth in frustration. But I wouldn't change a thing... well except for Emily's "brave side"... that got to be pretty annoying in the book, a bit overused. Other than that tiny little detail this book was over the top brilliant!
Oh, and the ending! I did NOT see that coming! Mind was officially blown!

This book, like book one, ends in a
MAJOR
cliffhanger. But, book 3,
Darkness Falls
, comes out on October 13, 2015! I'm hope this will wrap up this series, because...

View all my reviews