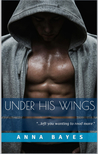 Under His Wings
by
Anna Bayes
My rating:
4 of 5 stars
Writing: ★★★★★
Story: ★★★★
Characters: ★★★★
Overall rating: 4.0
I don't read M/M and very rarely menage, but this book as been on my TBR list forever, written by a friend here on GR. So since it was a short read, and fit in with a challenge on my group, I decided to give it a go.
We all have our genre preferences, M/M isn't one of mine, but this short story was very well written, I liked the characters, and I enjoyed the angsty feel of it, and the... umm.. "interaction", (yes, that's what I'm going to call it! LOL), was elegantly descriptive.
Even though the story was a short one, there was still enough tastefully done sex scenes between Matt and Bonnie, Matt and Sean, and Matt, Bonnie, and Sean for me to get, and understand, the attraction to this wildly popular M/M genre.
Will this book open up a whole new genre or two for me? Unlikely. But I am glad I read it, and that it was something that was short, sweet, and pretty hot.
View all my reviews