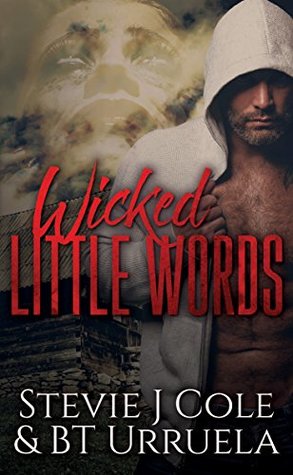 Wicked Little Words by Stevie J. Cole
My rating: 5 of 5 stars
More reviews at Li'l Kit's Reviews.
Writing: ★★★★★
Story: ★★★★★
Characters: ★★★★
Overall rating: 4.6
*****5 Blindsided Stars*****
       
A dark and at times creepy, sinister, and extremely twisted story! And in typical Stevie J. Cole fashion she completely blew my mind!
Edwin Mercer
is a New York Times bestselling author of dark horror, all of his books have had great reviews and sold well, until his last book, which got some pretty bad reviews. So on his newest book he's looking for someone to co-author with. And by the way, he's also a serial killer.
Enter
Miranda Cross
, a young up and coming author, whose idol is Edwin Mercer, she, along with thousands of others, sent Edwin a short story to read and review. And of course she won.. wouldn't have been much of a story if she hadn't, right?
From the first day she met Edwin, she had bad feelings about him, just that something was off... and he was angry, and took his rage out on everything, and everyone, around him, including Miranda.
Then we have
Jax Peralta
, a homicide detective who has been trying to nail this serial killer, and coincidentally is also a big fan of Edwin Mercer.
     
This book seemed a bit slow to me... but then at one point it all comes together and it's well and truly an "Oh fuck! No!" moment.

This book took everything I just read and turned it completely upside down in the most startling way possible! I wanted to gently lay my Kindle down and run far, far away! I loved it!
This is a total MUST READ if you love Stevie J. Cole and her dark and twisted mind!
I would have enjoyed knowing a bit more about Jax, a bit more about his background, but the book was complete without it. This book is a stand alone.
View all my reviews